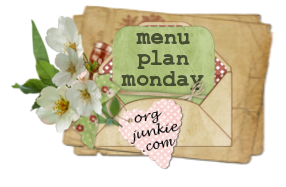 I was trying to find something to write about then I rememebered.. its Monday!! Menu Plan Monday!!!
Monday -
Chicken and Rice
( I use a can of cream of mushroom instead of milk)
Tuesday -
Bacon cheeseburger roll-up
Wednesday -
Chicken taco caserole
Thursday -
Fried Rice
Friday -
Chicken Bacon Ranch Pizza
Saturday - Eat Out!!
Sunday -
Chili
and grilled cheese