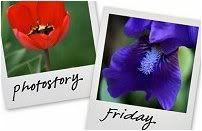 Hosted by Cecily and MamaGeek

I actually have shared most of the photos I have taken this week so I pulled this one from back a little while.
The Sunday before Christmas we decided to sing Christmas songs in the nursery at church and here is what happened:
They started dancing!! Especially my friend's son E and his "girlfriend" M. Everytime I think about it I smile and I am so glad that I captured it in this pic.
And I really like that it is blurry.. it almost shows motion lol.