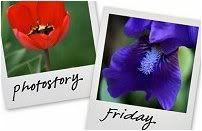 Hosted by Cecily and MamaGeek
This is my hair today.


It is aided by a hair piece.
I have been wearing this (in different ways) since Monday when I bought it. My hair is NOT naturally curly. My hubby has everyday

complemented

my hair. Yet has not noticed it is a hair piece. Every day I have taken it down and he has commented that I have taken my hair down yet he has not noticed that my hair was previously curly and it now straight. He has also not noticed that it takes me about 2.2 minutes to accomplish this curly hair.
I really thought he would notice immediately (my dad did) so I didn't tell him. Now it is kinda too late to tell him. So I guess I am waiting for him to notice.