Between Christmas and his birthday my son has alot of new toys. He and I definately have our favorite. So today I am listing them for Favorite Things Friday. Think of this as kind of a toy review. Okay? Okay

I got this for Connor for Christmas and he really likes it!! He opens and closes that stove door over and over. It makes a creaking noise. It also plays music when you play with certain things and he loves music. I think this was money well spent.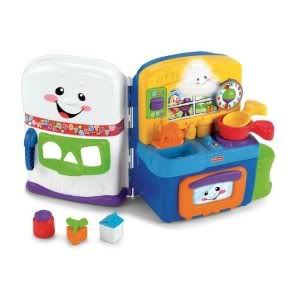 One of his honorary aunts got him this for his birthday. This is the only walk behind toy he will use. I think its because when you press the buttons on his head it plays these catchy tunes. Even I like to hear them (lol)!! The legs also go back together to make it a rider toy. He likes that better but for some reason he can only make it go backwards, but that's not the dino's fault.
This toy is really good for the carseat and the highchair. We put it on his lap and he pretends to drive.

This has been in Connor's crib since before he was born. He always been calmed by it but now he can turn it on himself (the tucan's beak) and he will sway with the music.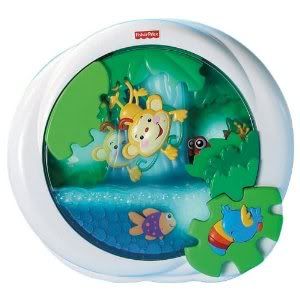 I am very proud that this is one of his favorites. He of course, does not get it right now but he loves the the little poeple. He carried around the little baby Jesus for a very long time. Unfortunately, he chewed on him.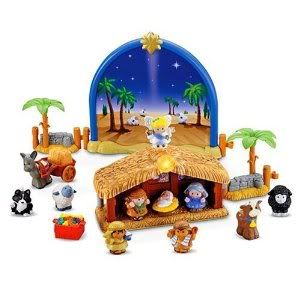 He recieved some of these for Christmas and then some more for his birthday. Alot of his toys play music and are loud and stuff, but this one fosters imagination. He likes these to hold and chew on and stuff but hopefully he will be building things before too much longer.
I got this one for his birthday. He has two toys that have one page on them like this, the plastic pages and he loves them. So I knew he would love a whole book of them. He is also a fan of Winnie and it plays music (of course) and that makes Connor love anything. When I was looking at this in Wal-mart he grabbed it out of my hand (haha!!) so I had to sneak it home to save it for his birthday.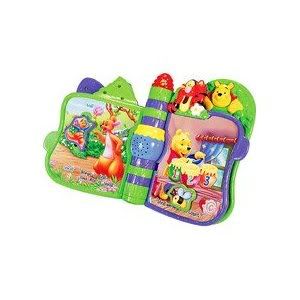 And just for clarification I am not a big time blogger, noone gave me anything for saying these nice things. I just love these, so does my kid. So I thought your kid might like them too!!